Pussy Riot is an anonymous, all-female punk band and part of a larger movement of young Russians who are unhappy with the current political climate.
Formed after Vladimir Putin announced his intention to return to the presidency in March, the band's eight members sing punk-rock songs that call for "Revolt in Russia!"  They keep their identities hidden under neon balaclavas and hold surprise performances all over the city, from the Metro to the prison roof.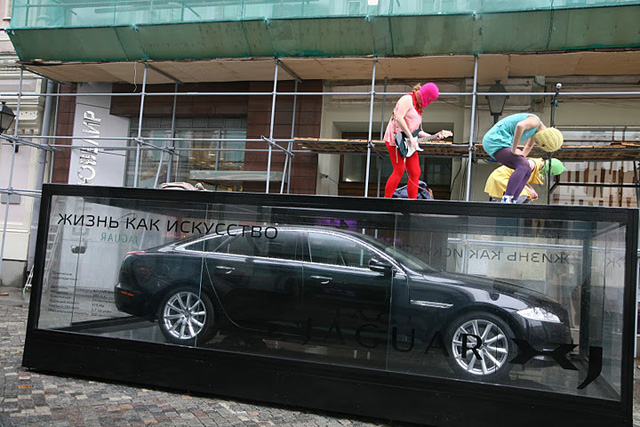 In December, the group held a series of performances on Stoleshnikov Lane – the epicenter of Moscow's luxury boutiques and status culture.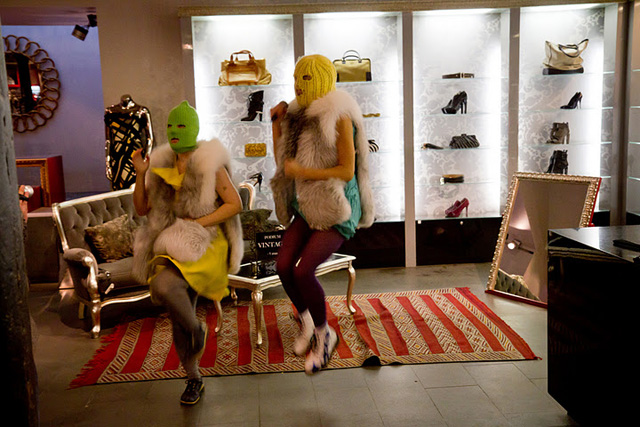 In January, they were arrested after minutes of performing in front of St. Basil's Cathedral in Red Square. The members were taken to Kitai-Gorod police station nearby and charged with public order offenses and disobeying the police, which carries a fifteen day sentence.
One member, who goes by "Tyurya," told the Guardian:
"A lot of us couldn't sleep after [the] announcement, so we decided, damn it, we need to do something. We always went to protests and things, but it seemed to us we needed to do something more."
The girls met at previous demonstrations surrounding the right to assemble after Gay Pride parades were banned in Russia.
"We understood that to achieve change, including in the sphere of women's rights, it's not enough to go to Putin and ask for it.  This is a rotten, broken system."
"We wanted to create a new form of protest – maybe not such a huge one, but we compensate for that with the bright, provocative and illegal nature of our performances."
As for now, Pussy Riot is taking suggestions for protest sites and revolutionary performances: pisya.riot@gmail.com
via The Guardian, NPR, and here