Full disclosure: I have an ugly candy habit. From Junior Mints to Peanut Butter Cups to Twizzlers, I love it all. So when I discovered that there was a band that shared my high fructose passion, I was delighted. I found Supercute! when our bands played a show together in Brooklyn. Immediately I fell for the New York-based sugar-y self proclaimed anti-folk, psychedelic band composed of Rachel Trachtenberg of the Trachtenberg Family Sideshow players, Julia Cumming, Olivia Ferrer, and Delilah Brielely, who pen wickedly smart, funny, and insightful songs with subject matter ranging from drugs, to selling out, to candy.
Since the days of those early shows, I have gone from having a crush, to being a total fangirl, jumping at the chance to be an extra in their music videos. Much like a Snickers bar, they are the perfect pick me up on a rough day. Their amazing trippy sound and their ability to hula-hoop while singing make for incredible live performances. They are equally radically on their self-titled EP Supercute! An EP killer enough to catch the ear of Kate Nash, whom Supercute! opened for on her most recent tour. Nash is even producing the new Supercute! Record.
Rachel and Julia also do a radio show about politics, music, and their DIY aesthetic. They inhabit an alternate world where "Candy bar skyscrapers tower above/Pink and yellow peeps fly like doves /Gummy bears just walk the streets /You never know who they might greet"(from their song Candy City). After spending the day the video shoot for their song Dum Dums, (Favorite Line: You like your weed, and I like my jujubes) I got the chance to chat with the smart, funny, and impeccably stylish Rachel Trachtenberg and Julia Cumming. And after I left I was totally jones-ing for another Supercute! fix. Until then it is just me and my sour patch kids…
IZZY: Hey guys, so this blog is all about teenagers, how does being a teenager impact the subject matter you chose, such as in the song "Not to Write about Boys"?
SUPERCUTE!: We like to think that what we're interested in is generally ageless, and the fact that we're teenagers doesn't have too much to do with it. No matter how old we are, we'll be interested in animal rights, candy dreams, what's going on around us and working hard to make it better!
httpv://www.youtube.com/watch?v=404FHOnpDfg
I: What is your favorite kind of candy?
S: We all have different ones, but it really boils down to Reese's cup. They are the holy grail of the candy industry.
I: How did Supercute! get started?
S: Well, Rachel always wanted to have a girl group growing up. She'd known Julia since they were little, and it all came together in 2009 when Julia introduced her friend June to Rachel.
I: Where does the band name come from?
S: The band name originates from the techno-jam SUPERCUTE! song, playing on our MySpace page. It was written for Rachel by a friend of hers and has her vocals on the track. It popped out to us as the winner !
I: Your videos often include your friends and member's of New York avant-garde art scene, are your friends/parents/community at large involved of the mission of Supercute!?
S: Definitely! We have so much support from all of our friends and family. There are also so many wonderful New York artists from the Antifolk and Artstar scene that inspire us to keep doing what we do.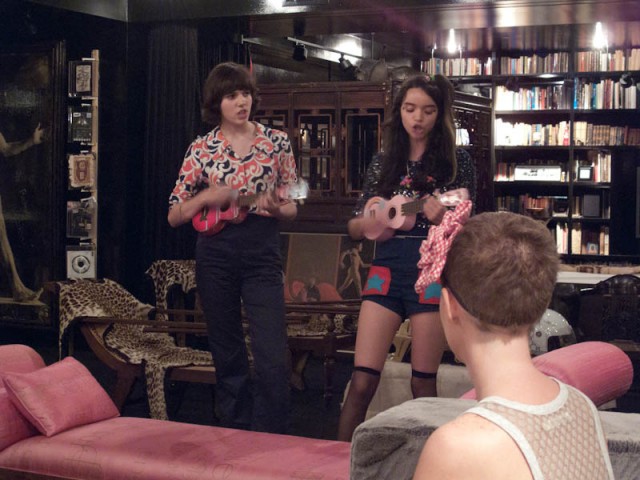 photo by Mary Manning
I: What other projects are you involved in?
S: We (Rachel and Julia) host our own teen-based online radio show about politics, art, and music every Wednesday. We are also in a few fun musical side projects with friends of ours who we love to collaborate with.
I: How does your activism (such as animal rights) influence your art?
S: Our activism directly correlates with the music we make. We think music and politics are so incredibly intertwined!
I: What inspires your amazing costumes?
S: Sometimes we just have so many ideas for a costume we end up with something totally crazy and fun, like multicolored furry skirts and gold lamé tops. But everything inspires us really, lollipops, Rachel's dog munchkin, totoro, marshmallows. It never ends! ♦
Recommended Reading:
Supercute! Facebook fan page
Supercute! songs: Myspace.com/supercute
Radio show: Rachel Trachtenburg's PURE Imagination with Co-host Julia Cumming
New music video Supercute! covers 'Paint it Black' by Rolling Stones:
httpv://www.youtube.com/watch?v=YaX0OVCh_SM
'Izzy Says' is a monthly column featuring interviews and musings by teenage drumming sensation Izzy Schappell-Spillman of Care Bears on Fire.