Who can forget their first concert experience?
OK, I'm lying: Despite the faded ticket above, Sonic Youth was not my first. That honor goes to Bon Jovi and a fledgling Skid Row in 5th grade. A bunch of other notable concerts followed (Billy Idol in 6th grade shall never be forgot!) but, as someone who is not great at being sentimental, this paper relic is testament to the power SY's San Francisco stop on its Dirty tour, which I went to at the tender age of 15, had on my early life. It ignited a fascination with the place where art, music, and marginalized people and cultures of all kinds collide. I had officially met The Underground.
Loitering along the perimeter of a sweat-filled moshpit my teenage brain suddenly realized how lucky I was to be in the midst of the alterna-melting pot that was San Francisco in the '90s. I was sheltered, sexually confused, living on the "right" side of the tracks (which, naturally, felt like hell on earth) but in the course of that one night, as kids with green hair gazed lovingly at this band of art damaged anti-heroes, I knew I would be OK.
As I've worked on putting together this mix of songs, snapshots and mementos from my
teenage life, I've come back into contact with a few things:
1. As a teen, music was the air I breathed. Without the people/worlds/communities/ lessons I found through it, I surely would have suffocated and wouldn't be typing this today.
2. I often assume that teens uniformly "have bad taste," period, but as I listened back
to some of the gems I dusted off for this (Godheadsilo! Belly! Drive Like Jehu!), I
realized that I had solidly awesome taste as a pipsqueak.
3. The Internet has totally fucking changed everything.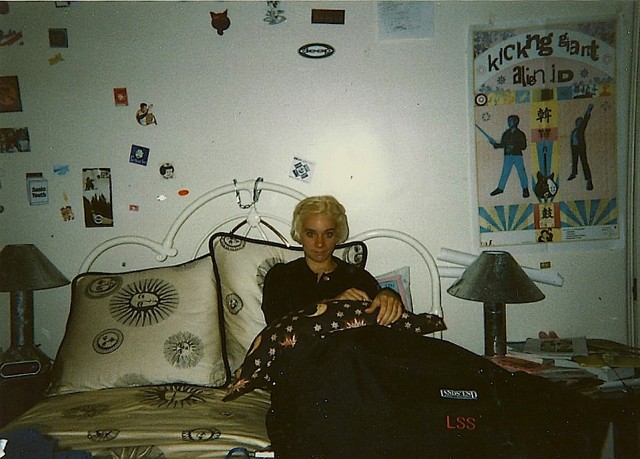 Here is my friend Katie Nyhan. I don't know what happened to her. Katie…where are you? She is in my teen-era bedroom beneath a set list I stole off Bikini Kill's stage and a Kicking Giant poster so rad I often give myself a giant kick for allowing it to get lost in life's shuffle.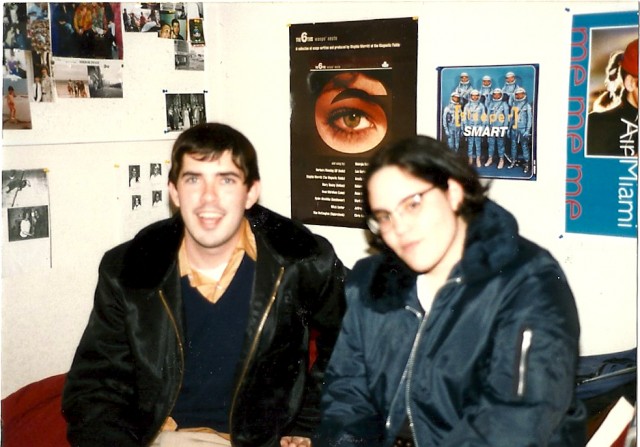 Me and my dear friend Joe Flanagan who I first met at a Blonde Redhead show some time in '93 or '94, I think. He was my first real, cool queer pal. Through him I learned about Stephin Merritt and the International Pop Underground and 4AD and Slowdive and lots of other '90s essentials. Joe passed away about 6 years ago. I miss him every time I hear the Magnetic Fields.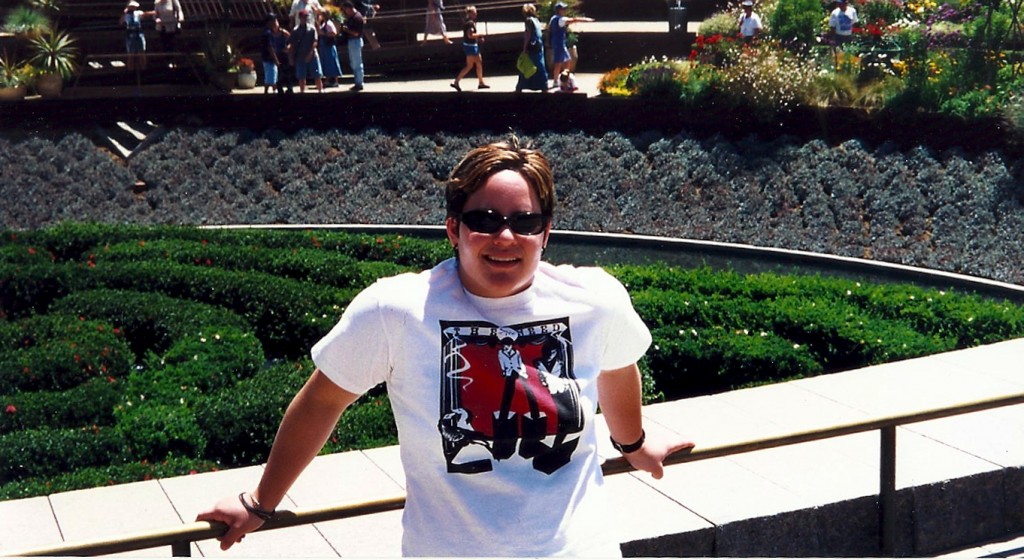 A priceless picture of me in a Need T-shirt and really bad sunglasses, not to mention a disastrous hair situation. Whoever said it was OK for everyone to bleach their hair back then was wrong. For some reason I think this was taken at the San Diego Zoo. Lord knows you can never be too queercore at the zoo!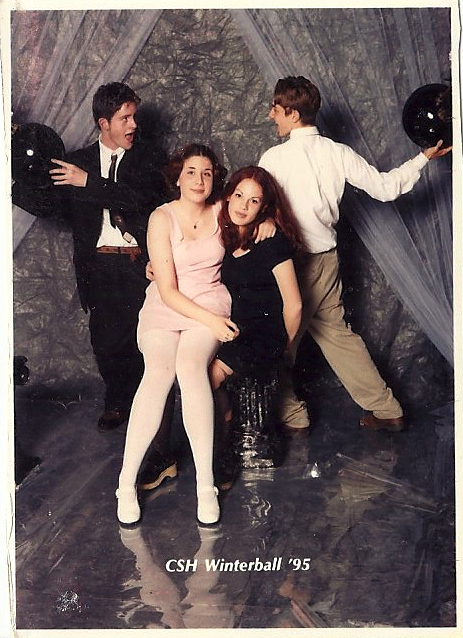 Neither of these girls is me. I just found it in my stash of old stuff. It's from a dance at the high school I attended, and it features two of my friends in an ambiguously romantic pose (oh, the '90s!) and their dates hurling prom decorations at each other. I laughed when I found this photo, 'cause the boy on the right is Jorma Taccone, now a famous comedian, director, and member of the Lonely Island. He makes a living re-creating teenaged humor, which he obviously had a great talent for even back then.
+
(Please note that while I was deeply influenced by a range of older music during my
high school years, I've made an effort to focus on bands that were active from 1992
to 1996. 'Cause that's when the shit went down.)
Lauryn Siegel Presents: This Mix Could Be Your Life
► Download mix here
1. Feed the Tree – Belly
2. Waiting Room – Fugazi
3. Milk & Melancholy – Rodan
4. Dramamine – Modest Mouse
5. Dr. Seuss – Autoclave
6. Car – Built to Spill
7. Transatlantic Telephone Call – Lois
8. Cue Cards – Lync
9. Little Babies – Sleater-Kinney
10. Corpse Pose – Unwound
11. Hand Grenade – Team Dresch
12. Boxcar – Jawbreaker
13. Cying Jag – Tilt
14. Her Jazz – Huggy Bear
15. Leap-Year Myths – Fisticuffs Bluff
16. Super Crush – Tiger Trap
17. Seven – Sunny Day Real Estate
18. Multiple Organic – Godheadsilo
19. What Kind of Monster Are You? – Slant 6
20. New Math – Drive Like Jehu
21. Hawaiian Baby – The Spinanes
22. Disco 2000 – Pulp
23. Pretend That We're Dead – L7
24. Ron – Slint
25. We Ate Sand – Karp
26. She's Real – Kicking Giant
—Lauryn Siegel is a producer and director of visual media as well as an occasional DJ. Her work has been exhibited everywhere from Anthology Film Archive to Pitchfork to Logo TV. She often misses cassette tapes.