"One day, in Leningrad in the late sixties, a boy—or maybe two—endowed with a sensitive judgment and feeling for art imagined the following: how might the best girls, mentally, intellectually and visually seen, dream of him, although not only that…" Evgenij Kozlov
These eye popping drawings are by 14-year-old Evgenij Kozlov, made in 1960s communist Russia. Some of the drawings from the 150 page Leningrad Album are now on view at the New Museum's Ostaglia show. Inspired by the close quarters of communal housing and frequent trips to the public bath, young e-e (Evgenij's tag) recorded his active imagination with incredibly mature, skillful pen and ink drawings.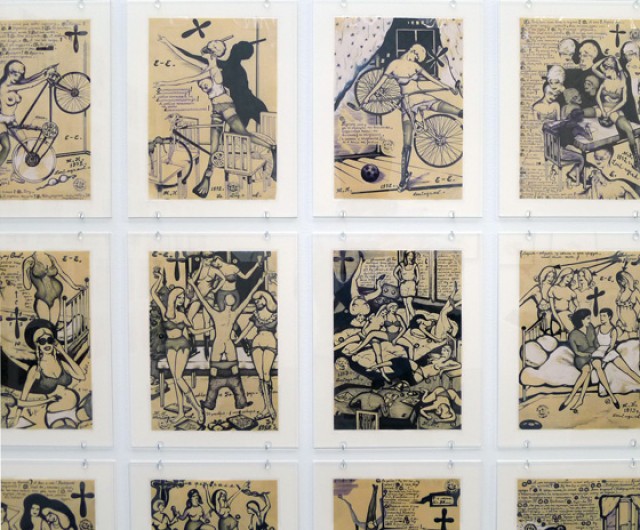 Installation view of Evgenij Kozlov work at the New Museum.
e-e's website provides very thorough documentation of the making of Das Leningrader Album—you will find family photographs and explanation of drawings in great detail. Start here with the 'atmosphere' of which the drawings were conceived…
via les presse du reel and artnet