Africa has the highest concentration of teens on the planet, and in Nairobi they are expressing themselves in never-before-seen ways. The recent massive upswing in the African youth population is especially dramatic in Kenya, a nation that is expecting a fourfold population increase (from 44 million to 160 million) by the end of this century. For young people, more means less — less jobs, less money and less opportunities. Keynan 15-24 year olds today are less attached to tribal identity and more invested in forging contemporary, relevant cultural identities in the new global economy. They even speak differently than their parents, rejecting regional and tribal tongues for an English-Swahili mix called Sheng.
The combination of more teens and less jobs has paved the way for the rise of a subculture never before seen in Kenya — the goth. Nairobi's burgeoning goth scene is only comprised of about 300 people, most of them teens, but 300 is a huge number for a country and region of the world where American rock music itself is a rarity. Inspired by tattoo culture seen on MTV and other American networks, Kenyan goths have opened up shops like The Goth Shop and Oh My Goth Designs and are making their presence felt on social media and in the street.
The general Kenyan public is still suspicious of goths, seeing them as anti-Christian, violent, drug-addicted, unusual and un-Kenyan. Many goths actually are Christians, and only wear their gear on certain occasions or travel in groups to avoid the ridicule and danger that comes with the public's misconceptions of them. Despite the challanges, the small, committed group is steadily growing and seems to be there to stay.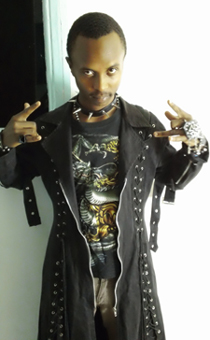 David Lith (pictured above), a tattoo artist, reveals the extent to which the goth scene is growing and spreading among younger and younger crowds — "There's these young guys – let's say posers – and then the older crowd. The older guys are relaxed, they just enjoy. Some of these kids are crazy." Now there's a sentiment we can all understand.
Information via Think Africa Press and The Guardian.
Images via Think Africa Press, The Goth Shop on Facebook, and OMG Designs on Facebook.