I grew up in Miami, Florida, listening to Power 96, a radio station I frequently called to request Mariah Carey songs and "shout outs" to my friends. "I LOVE YOU MARIA & JENELLE!!! BEST FRIENDS FOREVER!! YOU'LL ALWAYS BE MY BABY!" Our 13-year old bar mitzvahs and roller rink parties were booty bass explosions. The lyrics to some of those songs are more shocking to me now than they ever were to my adolescent ears.
FACE DOWN / ASS UP / THAT'S THE WAY WE LIKE TO F*CK.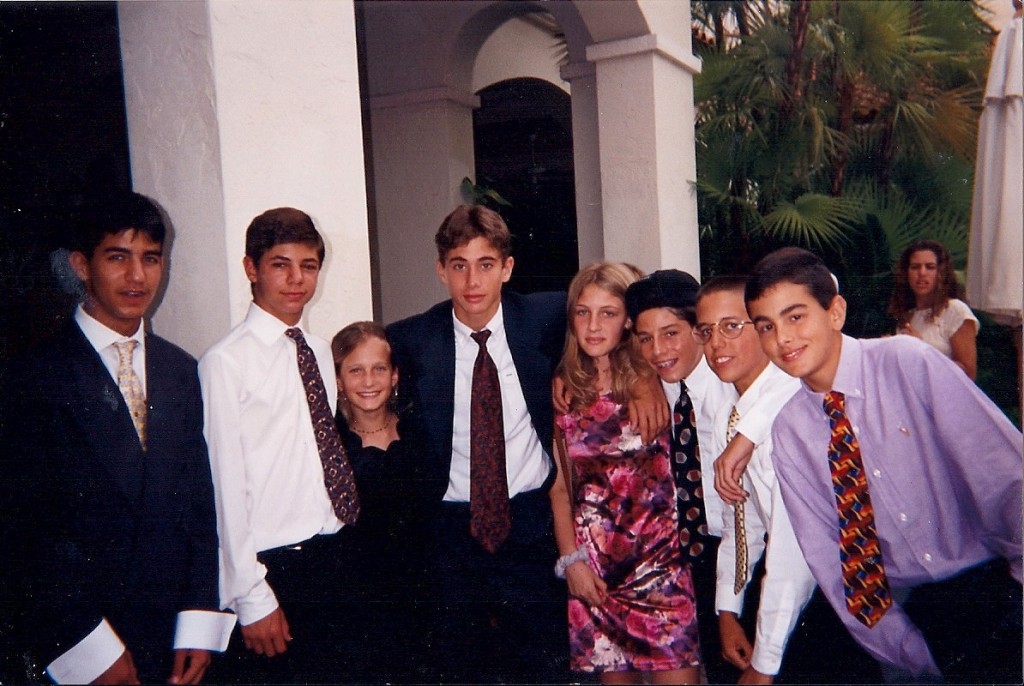 Flanked by two unrequited crushes.
Meanwhile, I had never even kissed a boy and I was terrified that the other girls would find out. There was an unsettling disconnect between the overt sexuality in the songs I was listening to and the dormancy of my adolescent love life.
I have no memory of exactly when my musical interests jumped from 2 Live Crew to Joni Mitchell, but a resentment started to grow, towards the place I grew up in and the misogynist, intellectually vacant music I associated with it.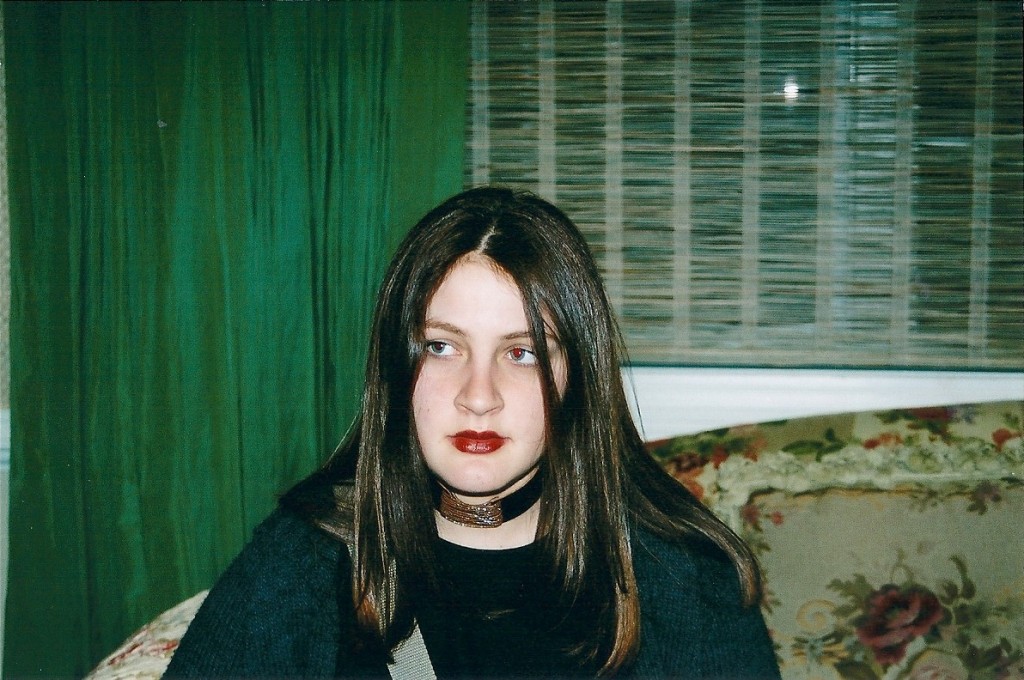 I don't even think this was a goth phase. It was just a weird day.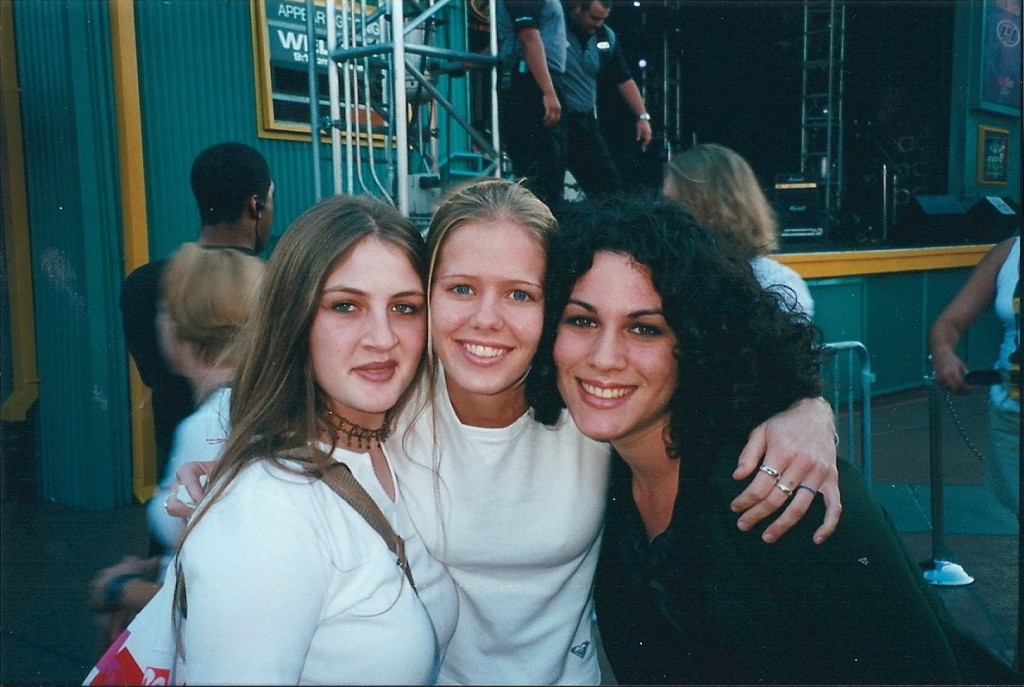 Wearing the essentials: choker, burgundy lipstick and Paul Frank messenger bag.
I had no subculture to latch onto in South Florida. The only music scene I knew of was a straightedge hardcore one that held little appeal beyond the cute boys who belonged to it. I was always conscious of this idea of the "teenage lifestyle" that was happening to other kids in other cities but that I had no access to in Miami. I dreamed of hanging out aimlessly at grungy, local coffeeshops. I settled for frappucinos at Starbucks.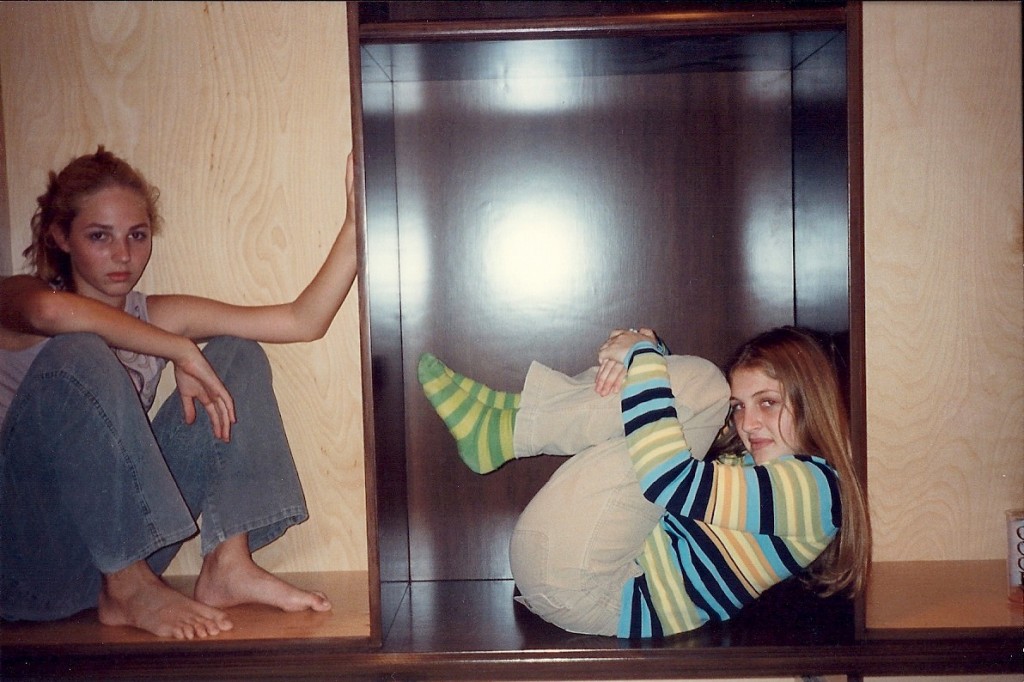 Posing for pictures, a regular after-school activity.
So began my solitary music journey. I got a subscription to CMJ and waited each month for a new issue with accompanying mix CD. I signed up for ArtoftheMix.com and traded tapes with strangers all over the world. I purchased the AllMusic Guide to Rock and went through it alphabetically trying to educate myself on every genre and its "key" bands. Though I scoured the used cd bins indiscriminately for Aztec Camera, Badfinger, Captain Beefheart, and so on down the alphabet, a thread did formulate amongst my favorites. From this mix, I left out all of the other random loves I stumbled upon in my quest: romantic old soul songs by Solomon Burke and Otis Redding, British folk, Astor Piazzolla tangos, and the first Black Star album which I memorized by heart. Try and imagine anything more awkward than the girl in these pictures rapping alone in a bedroom surrounded by a mural of fairies in a forest.
About that mural (see top right featured image) …it also contained the likeness of a certain person named Tori Amos (painted with her head peeking out from a bush—yes, seriously), my feelings for whom were nothing short of obsessive. I traveled around the country to see her perform, meeting up with strangers from AOL message boards. At the end of one concert, I was so overcome with emotion that I flung myself on the floor and burst into tears. The angst!
Senior year of high school, I didn't yet have a clue what I wanted to study in college, so I chose Boston, the promised land, where all my musical fantasies did indeed come true. I went to shows at the Middle East three or four nights a week and made friends with kids who wore jean jackets with band pins. I started to understand record label devotion (Thrill Jockey, Matador, Sub Pop, Drag City, Merge) and listened to "cool" music. And of course now I've come full circle, listening to those songs from my early years with much affection and new found enthusiasm. Riot grrrl and bass music coexist in harmony.
Goldberg Presents: JR/SR
► Download JR HIGH mix here
1. luke – i wanna rock
2. duice – dazzey duks
3. dj uncle al – the uncle al song
4. dj laz – mami el negro
5. luke (ft. trick daddy & verb) – scarred
6. ghost town djs – my boo
7. 2 in a room – wiggle it
8. zhane – hey mr. dj
9. eternal – stay
10. jade – don't walk away
11. monica – don't take it personal
12. tlc – creep
13. mariah carey – fantasy (ft. odb)
14. salt-n-pepa – groove me.
15. diana king – shy guy
16. aaliyah – back & forth
17. changing faces – stroke you up
18. bone thugs-n-harmony – tha crossroads
19. swv – weak
20. soul for real – candy rain
21. raphael saadiq – ask of you

► Download SR HIGH mix here
1. sleater-kinney – dance song '97
2. elastica – line up
3. fugazi – bulldog front
4. the dead milkmen – bitchin' camaro
5. the pixies – hey
6. smoke – trust
7. beat happening – other side
8. helium – honeycomb
9. the murmurs – squeeze box days
10.  juliana hatfield three – spin the bottle
11. stevie nicks – leather and lace
12. joni mitchell – a case of you
13. jeff buckley – lilac wine
14. the frames – red chord
15. billy bragg & wilco – california stars
16. counting crows – anna begins
17. pearl jam – around the bend
18. r.e.m. – electrolite
19. kristin hersh – your ghost
20. belle & sebastian – get me away from here, i'm dying
21. tori amos – ode to the banana king
22. kate bush – jig of life
23. bel canto – rumour
24. drugstore – super glider
25. portishead – it's a fire
26. cocteau twins – heaven or las vegas
27. gene loves jezebel – brand new moon
28. velvet underground – pale blue eyes
29. siouxsie & the banshees – dazzle
—Jenny Goldberg is an Associate Editor at Aperture Foundation and keeps a photography tumblr Glass Delusion.